Revolutionary Edtech Integration Connects Canadian Parents and Educators — Kids & Company, MarcoPolo Learning and Kindertales Deliver First-of-its-Kind Partnership
Canada's most innovative child care provider delivers Canada's first true 360⁰ school-to-home connection to thousands of Kids & Company families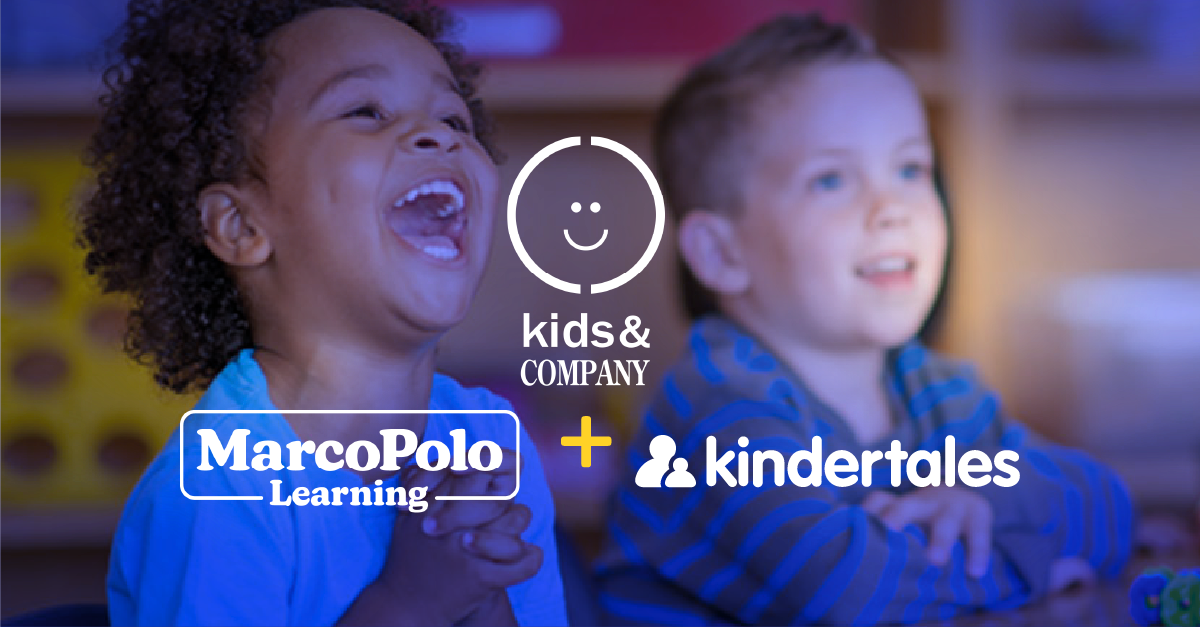 In a first-of-its-kind partnership that brings digital innovation into the classroom, MarcoPolo Learning and Kindertales have partnered to integrate MarcoPolo's award-winning curriculum-aligned digital content with Kindertales' childcare management software, securing Canada's largest early childhood education group, Kids & Company. This partnership provides over 100 Kids & Company child care centers across Canada and its teachers, administrators and parents, with access to award-winning, developmentally-appropriate digital content, including more than 1,200 videos.
How it Works: Learning, Optimized
With this partnership, Kids & Company enters into the digital learning space allowing families to continue learning at home by accessing MarcoPolo's educational content library through their existing Kindertales app. Parents can easily pick-up where the classroom left off, engage with their child, and truly support their learning journey. Parents will receive notifications through the Kindertales platform, so they can view the same lesson their child experienced in the classroom. 
This fully integrated technological solution supercharges the school-to-home connection, and optimizes classroom learning—educators can now focus on fostering their classroom's learning environment and journey with a powerful and efficient all-in-one platform. 
Increasingly, childcare providers are using childcare management software, such as Kindertales, to improve the classroom experience, enhance parent communication, streamline administrative processes, reduce overhead, and save time. All of these efficiencies make running an early childhood education center more affordable, while at the same time, enhance communication with parents. This partnership provides one-stop teacher support, which is critical to attract and retain teachers, which is essential when teacher shortages are at an all-time high. 
"Kindertales provides all-in-one childcare management software to support families, teachers, and administrators with the everyday operations of a child care center – from daily communications with families and activity tracking to billing, online registration and more. We're proud to be a part of this unique partnership that provides teachers and families with access to MarcoPolo Learning's award-winning content," said Steven Schneider, CEO of Kindertales.
MarcoPolo for Educators is a solution that elevates classroom quality by providing high-quality content for teachers that supports the curriculum taught in centers. The content is available in English, Spanish and a unique modified version for diverse learners. ​ ​ 
Along with the content, MarcoPolo provides educator guides and other teacher resources and training that uniquely provides embedded professional development, especially useful for new teachers and teachers looking to elevate their instruction. This partnership provides developmentally-approved content integrated into Kindertales to put the content at their fingertips so teachers do not have to access any other platform. ​ 
"MarcoPolo Learning will provide our educators with access to digital content and teaching materials that they can share with our children in their classrooms and with our parents via Kindertales—the highly engaging parent communication app we introduced in 2019. This added integration will give our parents an even greater glimpse into their children's learning and empower a true 360⁰ school-to-home connection. We're proud to continue to forge new ground in the childcare space to support busy families." said Victoria Sopik, CEO of Kids & Company.
"This integration of our curriculum-aligned content and resources with childcare management software that both educators and families can access is how we see the future for childcare operators. Everything a teacher does on a daily basis is integrated on one platform to enhance and simplify the classroom experience for teachers. No more looking for unapproved content on YouTube!" said MarcoPolo Learning CEO Justin Hsu.
About Kids & Company 
Kids & Company, Canada's most innovative child care provider, works directly with family-oriented corporations to develop progressive child care options that help address employees' work-life balance and productivity. By partnering with Kids & Company, top-tier companies from a variety of industry sectors are able to add child-care assistance, including guaranteed full-time, part-time and emergency back-up care, and elder care to ​ their suite of employee benefits. For more information, visit kidsandcompany.com.
About Kindertales 
Kindertales is a cloud-based childcare management software built from the ground up by veteran childcare business operators. On top of automating and streamlining day-to-day activities for teachers, directors & families, Kindertales provides reporting and analytics for childcare business leaders to increase enrollment and optimize their operations. This makes Kindertales the first choice of sophisticated, multi-center childcare businesses who need flexibility and scale in their software solutions. Kindertales is utilized every day across hundreds of childcare centers and tens of thousands of homes throughout Canada and the United States.
About MarcoPolo Learning
MarcoPolo Learning is an award-winning developer of early childhood content and technology for schools and homes. Its product for schools, MarcoPolo for Educators, brings classrooms to life with an unique product that elevates classroom quality and promotes classroom to home learning. ​ MarcoPolo also offers an award-winning consumer learning solution, MarcoPolo World School, and is home to the STEM learning animated TV series, THE POLOS. MarcoPolo Learning is being used in thousands of classrooms across North America, mainly in school districts, Head Start programs and large childcare chains.